No surprise that print cover prices are increasing… and that publishers which haven't made a move are planning it.
A survey of WAN-Ifra's World Printers Forum members elicited responses from 75 publishers and found almost half planned a price increase and more than half the rest (29 per cent) were thinking about it.
The online survey – issued with the WPF's newsletter – received responses from national and regional publishers in 32 countries. About 52 per cent of publishers were national dailies, with the balance regional or local.
Nearly 65 per cent of publishers had raised the price of their print newspapers in the last 12 months, about 16 per cent by more than 30 per cent, with almost half seeing "little or no change" in churn and a few even claiming their circulation increased.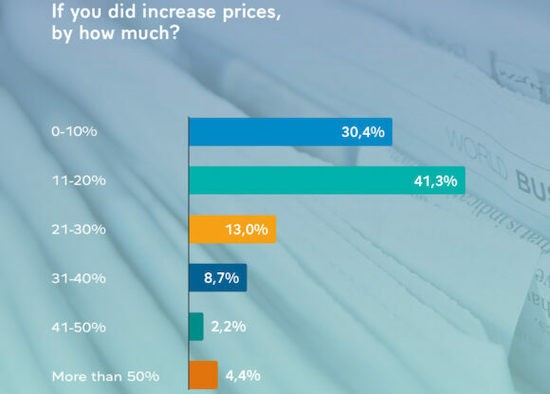 Most of the recent increases had been less than 20 per cent, but a significant number had been more aggressive, and 4.4 per cent raised prices by more than 50 per cent.
"While some publishers have experienced some significant churn after raising their prices, the majority have had churn within a manageable rate, considering the typical YOY decline in print circulation," says WAN-Ifra's Dean Roper. A number of newspapers are still waiting for results.
"With nearly half of respondents indicating that they will raise their print prices within the next 12 months and nearly 29 per cent contemplating a change, it indeed looks like publishers see an opportunity to increase the value of their print products – perhaps not just for the short term," says Roper.
Print is seen as the bridge to a more digital and diversified future, and is still the primary platform of revenue for most. Estimates in the group's May World Press Trends report – combining survey results with PwC's annual Global Media & Entertainment data – showed print still made up 73 per cent of overall income for newspapers, with print circulation accounting for nearly 42 per cent of overall revenue.
Digital makes up 16.4 per cent of total revenue, while digital circulation makes up 5.7 per cent of overall revenue.